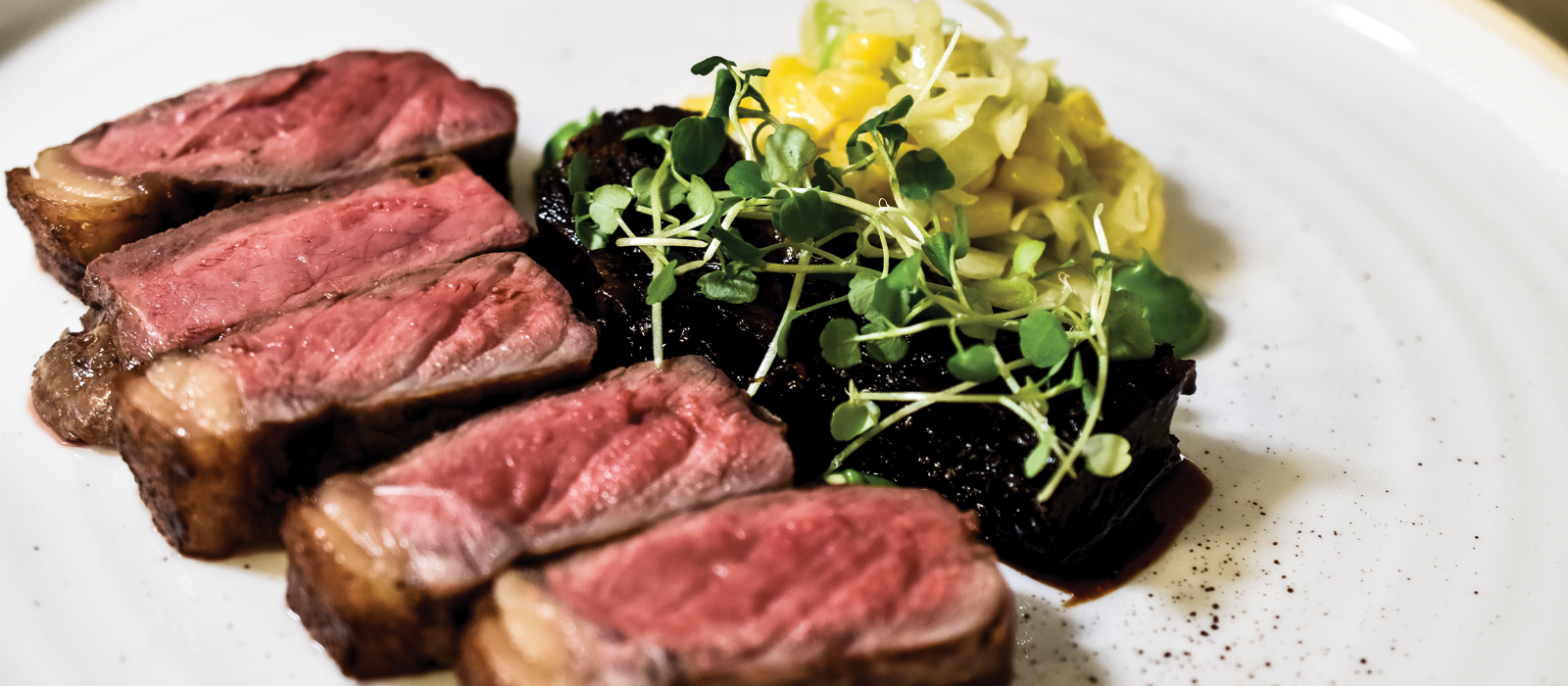 The Trewythen in the pretty mid-Wales town of Llanidloes is a fine Grade 2 listed Georgian restaurant with rooms that's been sensitively updated and maintained. This beautiful building with its equally impressive restaurant, Chartists 1770, named after a Chartist uprising in Llanidloes, is an apt setting for a meal that reflects the elegance and perennial appeal of the architecture.
Chef Jamie Tully may have worked with some of Wales most renowned chefs, such as Nathan Davies at SY23, but he has a style all his own. He and his team, many of whom are local and trained by Cambrian Training, have conjured a creative, fine-dining menu full of local and home-made produce.
We commenced with home-made griddle toasted breads with perfectly balanced home-made garlic and herb butter, followed by delightful amuse bouches, one of aromatic grilled fennel, the other of Jerk chicken from a family recipe, courtesy of a Jamaican friend, both on beds of cabbage and locally harvested wild garlic mayonnaise. The chicken's spice and seasoning was staggeringly good, with a bit of heat, rich depth and a slight tang in its lovely crust. The mayo cool, gentle garlic with a buttery, almost edame flavour.
The soy glazed lamb ribs arrived next. Cooked perfectly, with most of the fat melted away leaving a glorious flavour, the meat fell off the bone. The reduced soy and lamb jus glaze was pitched just
right, being both sweet and sour with an umami kick. The Pantysgawn Goats Cheese was oh so creamy with a nutty, fresh taste that meshed well with the accompanying beetroot carpaccio's sweet, coolness.
On to the mains. The Welsh PGI Beef Striploin arrived sliced, a perfect medium rare and melt-in-the mouth tender with a piece of short-rib for a bit of fat flavoured heaven. Adorned with finely cut fennel, sweetcorn, a turnip puree and beef jus, it was an impeccable medley of complimentary flavours – the satisfying beefyness, the slight anise of the fennel, the subtlety of the sweetcorn, the earthy puree and the rich, French influenced jus reduction – all in harmony. The baked celeriac was a nutty, oven baked delight with a rich deep hoisin-like plant based demi accented by more foraged wild garlic and served with al dente spring veg. As for the desserts, we could devote the whole review to them. We opted for the Chocolate Cremeux and the Teisen Mel. Both had the same ethos. A handful of top drawer, local, and if at all possible, home-made elements, expertly crafted, that sit unbelievably well with each other. The Cremeux's rich, intense dark chocolate, sweet, crisp caramelised banana, bitter/sweet mocha ice cream and nutty caramel on the one hand.
A traditional Teisen Mel with a twist, on the other – a wonderfully light and delicious sponge cake made with local honey (from an apprentice's uncle, no less), on a bed of home-made granola, a home-made honey ice-cream, garnished with honeycomb and contrasting with the sharpness of pink grapefruit. We also sampled the simple but stunning home-made rhubarb (grown locally) ice cream and the more savoury poppy seed ice cream with a delicate, fluffy creamy lemon cheesecake. All sublime. An honourable mention also to the gorgeous and completely home-made granola, yoghurt and rhubarb pot served at breakfast.
The dishes were full of flair and imagination and all were perfectly executed. As well as being technically spot on, Jamie clearly has an amazing palate – all the constituent flavours were beautifully balanced, with a degree of subtlety that allowed the core ingredients to shine. The vibe was relaxed and the surroundings lovely. The perfect weekend getaway.